Big Things Come From Small Structures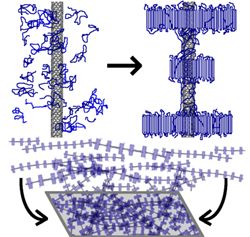 The future is small. Really small. And it's growing in Drexel University's own back yard through a special material called carbon nanotubes.
Dr. Christopher Li, a professor in Drexel's Materials Science and Engineering Department who joined the university in 2002, became perhaps best known for his pioneering research around carbon nanotubes, which was published in Nature Nanotechnology in 2009.
"Carbon nanotube is essentially the building block for the many ways we can use nanotechnology. The potential for this material really is limitless," Dr. Li says.
In time, Dr. Li predicts his research could lead to everything from super-smart electronics to building artificial bones and tissue to impenetrable military body armor to even better tennis rackets.
"By adding a structured organization to the polymers and filler material that make up a tennis racket, you'd have an excellent racket. We could see it at Wimbledon in a decade or so," he says.
Earlier this year, Dr. Li presented the latest development of the so-called buckypaper in ACS Nano, a publication of the American Chemical Society. The research, supported bythe National Science Foundation (NSF), described a more efficient way to conduct heat and electricity by creating a new type of buckypaper. Potential applications could include better, more efficient batteries. Current cell and laptop batteries lose a lot of energy through heat.
The funding from NSF, which totaled $230,000, came with the Special Creativity Award Dr. Li and his student research team earned for their research around interfaces between hard and soft matter.
It was the first time a Drexel professor earned the Special Creativity Award. The NSF gives the award to projects judged to be especially creative, in order to provide these projects additional time and funding.
Of all the projects he's led, Dr. Li said the project that earned the award had been his most memorable one at Drexel because it merged both hard and soft matter, while his previous work dealt more with only soft matter materials.
"Merging soft and hard matter materials continues to open up doors and knock down barriers. So much more is possible. This research alone could continue for another 15 to 20 years," Dr. Li forecasts.